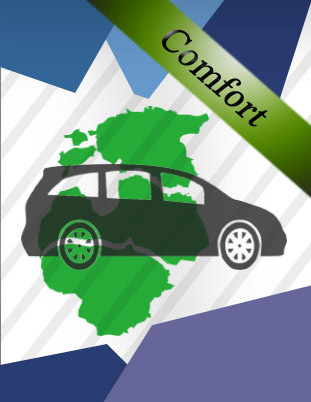 The favourable solution for high theft risk vehicles used in the territory of the Baltic states (Estonia, Latvia, Lithuania).
– the autonomous system is not connected with the vehicle electrical system;
– the user verification is done automatically through the electronic chip (does not require the user actions);
– the system activates automatically and obliviously, the alternative manual activation of the system is also possible;
– the activation of the system is based on the movement of the vehicle not starting of the engine or similar person based activity.
The special features of the system
– lower power transmitter is used,
– differently of the solution in the Sherlog Mini system there is lower power consumption and more reliable two way communication for the user identification used;
– the remote control battery needs replacement once a year;
– no false alarms due to the remote control battery low voltage.
| Features | Sherlog Mini Comfort | Sherlog Optimum Comfort | Sherlog Premium Comfort | Sherlog Classic * |
| --- | --- | --- | --- | --- |
| System price | 449 € | 899 € | 1199 € | 476 € |
| Monthly subscription fee | 27 € | 36 € | 37 € | 23 € |
| Annual subscription fee (the discount 10% is applied) | 291 € | 389 € | 399 € | 241 € |
| 3 years subscription fee(the discount of 25% is applied) | 729 € | 972 € | 999 € | 602 € |
| Autonomous system | v | v | v | v |
| Manual activation | v | v | v | v |
| Automatic identification of the user | v | v | v | |
| Automatic discreet activation | v | v | v | |
| Lower power consumption user identification system is used | v | v | v | |
| Extended service period (once a year) | v | v | v | v |
| High power transmitter | | v | v | v |
| Additional technical security measures | | | v | |
| | | | | |